Colour - as the name suggests, the normal bird has a red head.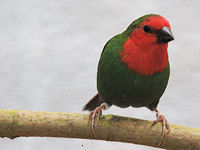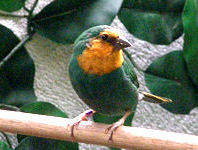 The Sea Green is an attractive mutation where the head mask is orange and the green differs from normal (shown below - left).

Various pied forms exist.

Housing - the cage size does not matter, but the 600mm depth seems important, particularly for parent-rearing.

It seems appropriate to give this very active and curious bird as much space as possible.

This isn't exactly a colony bird but nor are they overly aggressive towards each other in a large, well planted aviary, even when breeding.

In an aviary with a 4M x 2.5M flight of 4M x 2.5M and lightly planted, 6 Red-headed plus 5 Tricolors got on just fine, and bred.
Feeding - they do fine on either of the normal seed mixes described on 'Graham's Overview' page.

Sexing - isn't exactly the easiest but the third sign seems very useful. Signs to look for are:-
- firstly, only the cock sings
- secondly, the red on the head is stronger on the cock bird
- thirdly, the red on the rump is straight on the hen but round on the cock bird

Nests -when in condition, will nest at any height.

Nestbox - half-fronted which can be hung either inside or on the outside of the cage.

Seem to prefer an 'inside' nest box to face the bird room entrance presumably to see who, or what, enters.
Clearly we can worry too much. This self-built nest was between the rafters and a trap cage. Nest boxes were available.

Best described as 'rough and ready'. Some coconut fibre and bamboo leaves just 'thrown' together.

2 Sea-green pairs nested at the same time.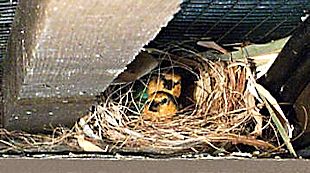 Other birds, including other Sea-greens, would land on the top of the trap cage just 4" from the nesting pair. Nothing happened at all.

Re Graham's comments on the nest facing the entrance. The self-built nest faced the entrance but the nest box, chosen by another pair, backed onto the wire of the entrance porch, despite others being available with a much better 'view'