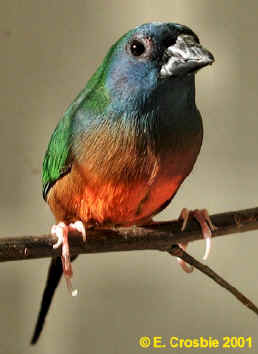 This beautiful Parrotfinch is considered difficult to breed, often proving unwilling layers.

Our experience differs from most.  While we have had our flock sit for months, or even years, doing little, at other times breeding activity is intense.

We conclude that under the right conditions Pin-tailed Parrotfinches are prolific breeders.

For instance, foster-rearing produced a total of 20 young on the perch, from 59 eggs laid by wild imports - 3 hens & 5 cocks - in 11 months of 2000/ 2001
2002/ 2003 was a lean season as strived to change diet, upgrade aviaries and cages with the goal to parent-rear.

In 2012, Graham Lee finally got interested.

He acquired new blood from various sources.

After much experimentation he is now very successful, both foster and parent-rearing, with the adults as single pairs in cages.

His experiences and successful husbandry will be outlined on this site mid-2014.